With the exciting news that Greece will welcome visitors back in May, this sunny Mediterranean country and its glorious islands are the number one option for UK families looking to take their first post-lockdown holiday.
The thought of a truly warm bucket and spade holiday with Greek culture and cuisine alongside the turquoise waters of the Med almost sounds too good to be true, but this summer it really looks like it's going to be possible. There will be no need to prove you've been vaccinated, as arrivals from the UK showing a negative PCR test or a recent positive test for antibodies will be allowed in.
There's already been a huge rush of bookings since Boris Johnson's 'roadmap' announcement and flights have started to jump in price on key school holiday dates, so we'd advise anyone thinking of travelling this summer to plan now!
Halkidiki
Sani Resort
This perennial favourite with Temple World families is made up of five 5* hotels set along a 7km blue flag beach in a 1000 acre estate 50 minutes from Thessaloniki airport.  It has one of the best and most comprehensive kids clubs in the world, run to Ofsted standards and with many British staff. The (chargeable) creche takes babies from as little as four months, so frazzled parents can enjoy a precious hour or two together or enjoy a spa treatment if they want a little break. The free kids club from age 4-12 is so fun that children beg to be allowed to go into it.  There are some amazing extra activities too, with a Rafa Nadal Tennis Academy, a Bear Grylls Survival Academy and a Chelsea FCF Football Academy for any budding Gianfranco Zolas out there aged 4 and above. The hotel's 'babewatch' facility offers 30 minutes of free child supervision at the beach and means mum and dad can go for a swim together or just shut their eyes on the sunlounger for a change… bliss.
There are many different accommodation types from rooms to 2 bedroom suites to choose from across the luxurious hotels, but package prices for a family of four start at £5,860 for a package including 7 nights sharing a Junior Suite at Sani Beach Hotel on Half Board, BA direct flights from London and return airport transfers, departing 01 August.
Eagles Palace
Also in Halkidiki, but located on the less developed Athos Peninsula a convenient 5 minute complimentary shuttle from the pretty village of Ouranoupolis is Eagles Palace. This luxurious resort overlooks a beautiful bay with fine golden sand, calm sea and gently sloping beach perfect for kids to paddle in safely.  Accommodation ranges from rooms and suites to large villas at the adjacent Eagles Villas property which shares the restaurants and kids club, so there's an option to suit any size family.  There's a creche with a nap room for babies from 4 months upwards, and a beachside kids club for kids 5-13, as well as a teen hangout and a watersports programme with sailing, kayaking, windsurfing, paddleboarding, waterskiing and diving available for kids to try out under the watchful eye of professionals. During the summer there are complimentary movies with popcorn to keep kids entertained in the evenings, while mum and dad enjoy a date night.
Accommodation for a family of four at Eagles Palace travelling 01 August starts with a Family Room which works out at around £5,900 for a 7 night package including return BA flights from London, return airport transfers, and half board.
Ikos Olivia
The Ikos group of hotels are Greece's finest 'All Inclusive' resorts, and their two 5* Thessaloniki properties are hugely popular with Temple World families because they suit even those who might not usually opt for an All Inclusive. Named number 2 in the Top 25 All Inclusive Resorts in the World (#1 was another Ikos!) in the Trip Advisor Travellers Choice awards 2020, Ikos Olivia is an elegant family-friendly resort that redefines the genre. With complimentary room service, complimentary minibars stocked with quality wine and  branded spirits, and the ability to dine out at local restaurants as well as at the resort's own superb a la carte outlets without extra charge, this is All-Inclusive, but not as you know it. Families will love the gently sloping golden sandy beach, the multiple kids pools, and the kids and teens clubs which are free from age four upwards and expertly operated by UK based childcare experts WorldWide Kids.
Accommodation for a family of four at Ikos Olivia travelling 01 August starts with a Junior Suite which works out at around £6870 for a 7 night package including return BA flights from London, return airport transfers, and All Inclusive meals and drinks.
Crete
Domes Zeen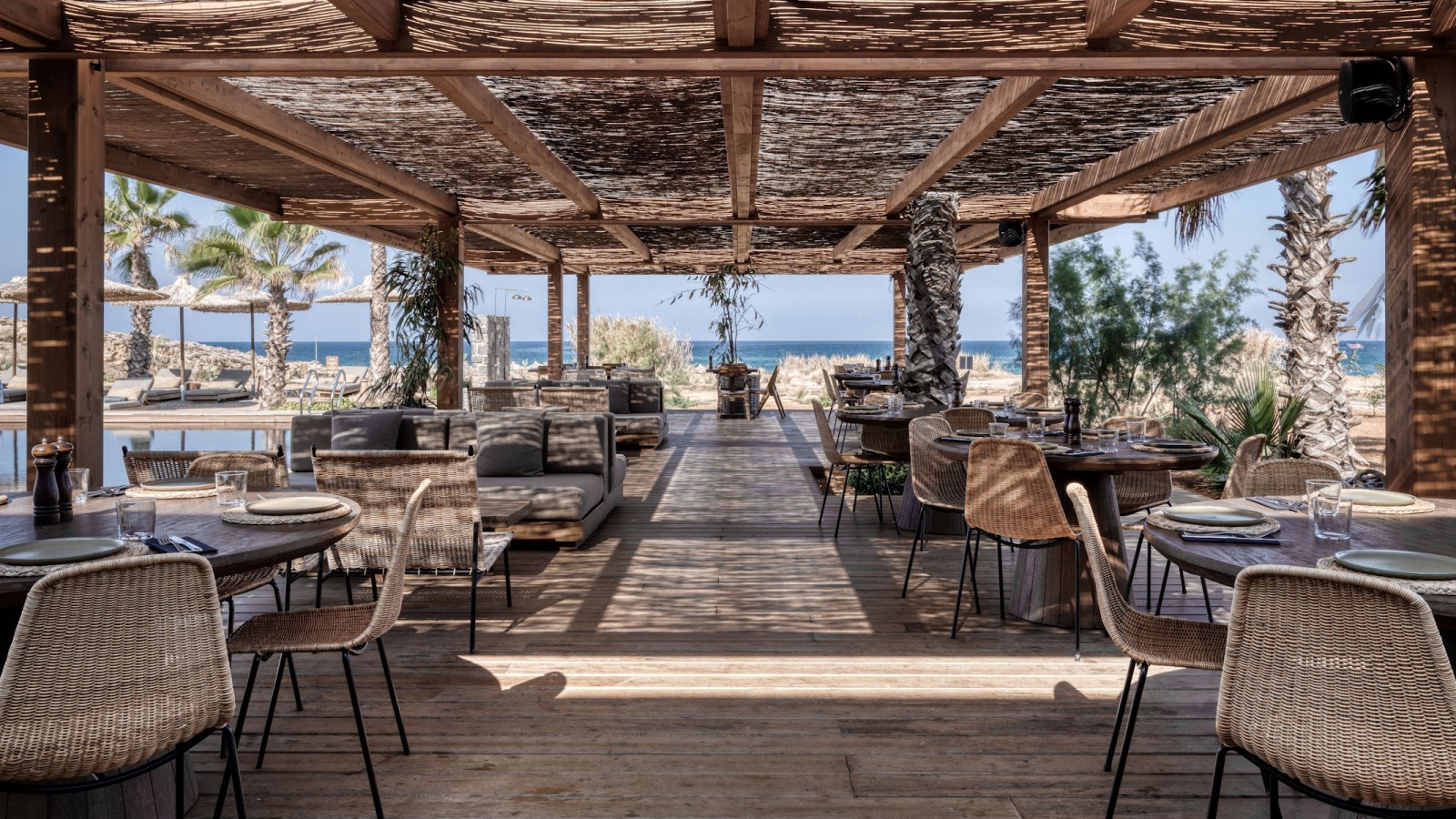 This new and ultra-stylish family friendly resort from Domes, known for their small portfolio of luxury Greek island hotels,  offers beautifully designed spacious rooms and villas just a few miles from Chania' s picturesque Venetian harbour and old town.  Zeen is the Greek concept of 'wellbeing' which at this resort manifests itself as a combination of a superb beachside spa, excellent dining, and immersive classic island experiences and excursions from sunrise yoga to cookery classes, ceramic workshops and island hikes.  Rooms for families start with Tropical Family Bungalows which take 2 adults and 1 child,  with families of four fitting perfectly into the Tropical Family Pavilions with either shared or private pools. Larger families will find the 2 bedroom Family Villas with private pool are ideal.  All are beautifully decorated with earthy tones mixing stone, wood, concrete and rattan for a soothing and modern eco look.  The complimentary kids club for children aged four and over encourages learning and exploration through play in a mini village of yurts and tepees, and there's also a creche (chargeable) for babies from six months upwards.
Accommodation for a family of four at Domes Zeen travelling 03 August starts with a Tropical Family Pavilion with Private Pool which works out at around £6540 for a 7 night package including return direct Aegean flights from Heathrow, return airport transfers, and half board.
Domes of Elounda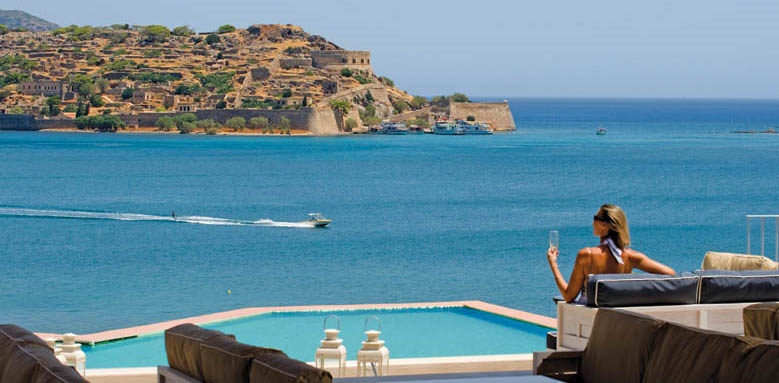 One of the original Domes properties, this stylish resort on Crete's northeast coast is also fantastically family-friendly.  Set on a hillside overlooking the UNESCO protected island of Spinalonga which can be visited by boat, the resort has five pools (including two saltwater) and a peaceful beach shaded by olive trees.  The lovely Elemis spa even offers special treatments just for kids!  Elounda village itself, once a fishing village,  is now home to a handful of 5 star luxury resorts but retains an unspoiled local feel, and is 5-10 minutes from the resort by taxi for those who fancy lunch at a local taverna. A combination of extremely spacious suites and villas means there's accommodation to suit any family size, and there's a fantastic new 'Domesland'  kids area which includes an Ofsted approved crèche for babies from 4 months and over (chargeable) plus a complimentary and very popular kids club operated by UK based WorldWide Kids (4-12 years old) which offers supervised mini discos, amateur dramatics and team games. There's a lovely playground with swings and slides set inside a huge sandpit and a teen area too.  The resort can even provide cots, highchairs, buggies, stairgates, monitors, potties and baby baths so families with little ones can pack light!
A summer holiday package for a family of four travelling on 31 July staying in a Family Suite costs around £5790 for 7 nights including direct return flights Heathrow to Heraklion with Aegean and return airport transfers, based on Half Board.
Anemos Luxury Grand Resort
Sometimes large resorts can feel impersonal, but this 300 room deluxe hotel manages to offer a great range of spacious rooms, an impressively vast pool and fantastic facilities along with quick, personalised service, and never feels crowded.  Set on a secluded section of coastline between Rethymnon and Chania, the resort has easy access to a beautiful wide sandy beach opposite via a quick tunnel, and offers plenty of beach loungers on the spacious sands.  At the centre of the resort is a huge freshwater pool with lots of islands perfect for finding a secluded spot.   There's a supervised kids club offering bowling and zumba among its activities, a water playground with slides, and mini-golf too. For the grown-ups, there's a lovely spa.  Food is a highlight, with plenty of choice across the four restaurants with a brilliant array of fresh fruit at breakfast,  and good value too.  The pretty local town of Georgioupolis with a selection of local tavernas is within easy reach, and the Venetian port town of Rethymnon is only 10km away.
A summer holiday package for a family of four travelling on 01 August staying in a Deluxe Duplex Maisonette costs around £4410 for 7 nights including direct return flights Heathrow to Chania with Aegean and return airport transfers, based on Half Board.  
Kos
Ikos Aria
Another fantastic hotel from the Ikos stable, this deluxe all-inclusive throws out the rule book and offers plenty of unexpected perks, including a complimentary 'museum pass' to get free entry to three museums on the island, and even the use of a complimentary Mini Cooper for the day, to help guests explore independently. Like other Ikos properties, you can also dine out at selected local restaurants outside the resort as part of the All Inclusive plan, as long as you can tear yourself away from the seven fantastic on-site restaurants, four of which have menus designed by Michelin-starred chefs.  Families are brilliantly catered for with heated pools, children's menus and cutlery, kids bikes to hire and a fantastic kids club operated by UK-based Worldwide Kids to international standards, with complimentary kids and teens clubs plus a creche that takes babies from 4 months upwards (chargeable). On top of all this, guests opting for Deluxe rooms get a complimentary massage and a bottle of Taittinger Champagne on arrival amongst other lovely treats.
A summer holiday package for a family of four travelling on 28 July and staying in a Panorama Junior Suite cost around £8600 for 7 nights including direct return flights Gatwick to Kos with BA and return airport transfers, based on All Inclusive meals and drinks.
Corfu
MarBella
Located next to Agios Ioannis Peristeron beach, 10 miles south of Corfu town, the MarBella has been a fixture of the Corfu hotel scene since the 1960's and after a lengthy refurbishment this sprawling resort is back to its classic best. Superbly family-friendly, the facilities are particularly well-suited to those with toddlers in tow, as there's a separate toddler pool alongside the kids' pool which has water slides and a splash park, and the hotel's kids club also has a creche section for babies with UK-qualified staff. The hotel's Kids Dance Academy is something unique to the MarBella, with instructors offering tuition in jazz, street dance, and Latin to starry-eyed youngsters.  There is an extensive array of restaurants and facilities in-resort, but historic Corfu Town is only 15 km away for those who'd like to explore, with a complimentary boat trip twice a week perfect to enjoy the coastline, choose a restaurant in town to dine at, then enjoy the star-filled skies on the way back.
A summer holiday package for a family of four travelling on 30 July and staying in a Family Room cost around £3995 for 7 nights including direct return flights Gatwick to Corfu with Aegean and return airport transfers, based on Half Board.
So what are you waiting for? Book it!
Hopefully there's something in this round-up that is right for you and your family but this is by no means an exhaustive list, just one we prepared for a family this week that we thought we'd share in case it was useful to others! We have some more absolute gems in Greece for those who want to splurge.
We've based the prices on the best value room category that will comfortably fit a family of four with two children under the age of 11, but in some cases this is two interconnecting rooms or a suite with separate rooms, whereas in others the accommodation may be all in one room.  There are two bedroom suites and also bungalows or villas at most of these resorts for larger families or for those who like to have more space – this is especially useful in the evenings if you are travelling with little ones who go to bed early.
All the packages above are based on current flight prices which we've seen rising fairly steeply over the last two weeks, so the sooner you plan, the better the price will be, as well as enjoying more choice.  With low deposits of just £50 per person and a money-back guarantee if travel isn't possible,  it makes sense to book now – you'll avoid price hikes and you'll have something truly wonderful to look forward to,  risk-free.
Call us on 0202 8940 4114 to speak to our knowledgeable small team, or drop us a line to info@templeworld.com to receive personal advice and a quote tailored to your own family's needs. Prices correct as of 19 March 2021.